Can McInnes Take The Dons To The Next Level?
When I first started thinking about writing this post it was going to be about what Derek McInnes needed to do to become a proper Don's legend. That was a few months ago now when the Dons were flying high in the midst of an 8 game winning run. The intervening period has significantly moved the goalposts. Following the second first round cup exit of the season, this time after a limp showing against Hearts in the Scottish Cup, notions of legendary status now seem fanciful. Grumblings of discontent among sections of the fanbase are becoming amplified and the question I'm now asking myself now is not What does McInnes need to do to be remembered as a great? but rather What does McInnes need to do to keep his job?
Before we look at the issues currently blighting McInnes, let's go back to he first took over from Craig Brown as manager. Brown had steadied the ship after the disastrous McGhee era, however, after successive 9th place finishes, the ship was bobbing along on the sea of mediocrity on a long voyage to nowhere. Home crowds had dwindled to around 8k and apathy reigned supreme. A change was definitely required.
The reaction amongst the fans certainly wasn't universally positive when McInnes was appointed in March 2013. There were those wary of appointing a manager so recently dumped by Bristol City with the club sitting bottom of the English Championship at the time. There were plenty Bristolians ready to provide ammunition to the doubters by decrying McInnes's management style on online messageboards . There were other Don's fans, though smaller in number, for whom McInnes's past as a Rangers player was hard to swallow. And yet, there were many in the Don support who remembered the good job he'd done at St. Johnstone and were willing to write his West Country nightmare off as a case of 'wrong time, wrong place'.
I was convinced the appointment was a bit of a coup. I reasoned he might just be the breath of fresh air required at Pittodrie after the defensiveness dourness of Brown. McInnes seemed to be a much more progressive appointment than the likes of Derek Adams who'd been another forerunner for the job.
McInnes's first full season in charge of the Dandies probably came as a surprise to everyone barring the man himself. The early signs were promising: the addition of proven SPL players like Barry Robson & Willo Flood, the astute loan signings of Michael Hector & Shay Logan, and the maturing of the previously erratic Peter Pawlett. This was a team built on solid foundations – only 38 league goals conceded, the least since the 93/94 season. The team was happy to sit back and trust the defence then hit on the break through the pace of Pawlett, Hayes and McGinn. It wasn't always pretty, there were a lot of performances where we'd go in front then rely on the solidity of the defence to get us the points. However, results were good and the fans were delighted we weren't a laughing stock for the first time in such a long, long time.
Ultimately the season ended in disappointment as we were narrowly edged out of 2nd place by Motherwell, and John Sutton's pointy, pernicious elbow in the last game of that first season. The real high point had seen the Dons lifting their first trophy in 19 years after extra time and fucking penalties in the League Cup Final victory against ICT. The game itself was dire but who honestly cared, we'd won a major trophy and nothing else mattered. It was my best day as a football supporter (right up there with the Aberdeenshire Shield final of '96 when the Broch came back from 3-0 down to beat Peterhead 6-3 after extra time, absolute scenes!)
Season 14/15 built on the previous, there was no trophy this time, but we finished 2nd in the league with a record points total and the most goals scored in a season since 90/91. The cup exists to the two Dundee teams were annoying especially the Scottish Cup game at Dens which came during an 8 game winning streak in the league. There was also a slightly alarming end to the season which saw three losses and a draw, with the players looking like they had decided to go on holiday a month early. However, any concerns seemed churlish in the grand scheme of things. McInnes could do no wrong; he was treated with Messiah-like status in the toon.
McInnes's approval ratings really went through the roof at the start of the 15/16 season when the team again went on an 8 game winning run which included a superb 2-1 victory over Celtic at Pittodrie. Everyone I spoke to after the Celtic game said the same thing: play like that on a regular basis and we had a chance, a real chance. The 8 game run left us top of the league on 24 points by mid-September.
Then a strange thing happened- we started losing – we failed to win in the next 6 matches, tasting defeat on five occasions. This torrid run included being knocked out of the League Cup by Hibs and losing 5-1 to St Johnstone at Pittodrie. For the first time in McInnes's tenure, we looked nervous every time we stepped on to the park. It was inconceivable to the fans how a team could go from 8 wins in a row, and looking unstoppable, to this mess.
Conspiracy theories abounded. Had there been a dressing room punch-up? Had the manager been chinned? Had players downed tools because McInnes had been caught shagging Ash Taylor's missus? Did everyone hate Shay Logan because he wouldn't let them read a paper in peace? We'll probably never know the real reason (something definitely went down, of that I am sure) but the slump was revealing in terms of the fans' attitude towards McInnes.
Every game that passed without winning, so more dissenting voices were heard. Universal praise quickly turned to grievances being aired more freely. No one is disputing how good McInnes has been for the club. He's dragged us out of the doldrums, he's given us respectability, and he's reinvigorated a fan base that was beginning to wonder if our time would ever come again. But, having failed to capitalise on a how poor Celtic have been, and once again out of both cup competitions at the first time of asking. there are some worrying themes developing that can't be ignored.
No Plan B
We must be about the most predictable team in league in terms of our style of play. When everyone is fit even my dog could tell you what our starting eleven will be. We have become far too easy to read and set up to play against. If a few key components of our team (mainly Hayes and McGinn) are having an off day, the threat we pose is now almost completely nullified by the opposition. McInnes's almost pathological disregard for anything but 4-2-3-1 is chronic. The inability to make effective tactical or personnel changes during a game more often than not means when we are off the boil we might as well not even bother showing up.
McInnes and his coaching staff need to find different ways for us to win games. Some games call for us to be more direct and we need to be better equipped to deal with the physical approach taken by the likes of Hearts. Games at home to the lesser teams, like Dundee United (fnar fnar), don't require two sitting midfielders and one man up front. McInnes has to find a way of playing two strikers on a more regular basis. I understand managers have their preferred systems and methods, but surely even the most limited coach can get across the basics of a few different formations to a group of professional footballers?
Crucial Personnel Decisions
You get the feeling that McInnes is very much of the Jimmy Calderwood school of man-management. He has a core of trusted senior players who are virtually guaranteed a game every week. In return, he expects loyalty, commitment and his instructions carried out to the letter when the lads are on the pitch. This approach can have a massively positive effect, leading to a strong core group who, emboldened by the manager's trust, take that solidity out onto the pitch. However, there have been a few times where I feel McInnes's trust in certain players has clouded his judgement on major decisions.
Firstly, the decision to persuade Shay Logan to give the club another season has spectacularly backfired. Logan has been unrecognisable from last year and most fans have observed that his head has appeared elsewhere. Had McInnes been more astute he'd have seen that Logan had already mentally punched his card at Pittodrie and focussed his efforts on finding a replacement. Instead, his loyalty has been rewarded by abject performances and numerous reports of Logan returning late from club-sanctioned trips back to his Manchester home.
Logan's terrible form was compounded by how poor Ryan McLaughlin was during his loan spell from Liverpool. As much as I like Shay, it seems clear that it would be best for all parties if he was fixed up with a new club in this transfer window and we were able to source a replacement.
The other major concern I have is the captaincy of Ryan Jack. The decision to hand Jack the armband in the summer, presumably an incentive in signing a new contract, has not been a success. Jack is still learning his trade and the burden of the captaincy appears to have weighed heavily on him. His on-pitch leadership style this season seems to have consisted solely of screaming at players, and I'm not entirely convinced that senior pros like Mark Reynolds are that motivated by a 23 year old loon shouting obscenities. Graeme Shinnie seems to me to be the standout choice to take the armband from Jack. Shinnie has a winner's mentality, is comfortable with his own game, and is able to provide the type of persuasive motivation that a quieter group like ours needs. This switch would allow Jack to focus on his game and give the players a totemic focal point on the pitch to drag them through difficult periods in matches.
Lack off first team opportunities for academy players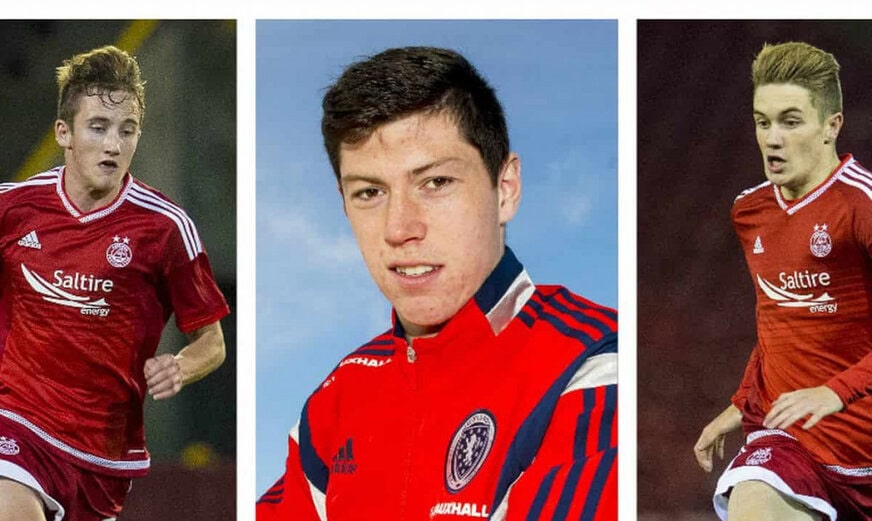 Despite recently agreeing a deal with the bank to write off the debts which had been a millstone around the neck of the club for so long, Aberdeen remain a selling club. The only way we can operate sustainably without relying on injections of cash from rich benefactors is to nurture our own young players, enjoy their talents for a few seasons and then sell them for a handsome profit. This pretty much applies to every team in Scotland. I think most fans accept this reality and actually love to see young, local loons come through the system and show some pride pulling on the red jersey.
McInnes's record of introducing youth players into the first team is quite frankly terrible. This post isn't meant to be a character assassination but this is one aspect of his character as a manager that doesn't stand up to scrutiny whatsoever.
Aberdeen U21s won the SPFL Development League last season; a fantastic achievement by Paul Sheerin and his lads. At least six players from that squad were released at the end of last season including the previously highly rated Cem Felek, Marcus Campanile, Kieran Gibbons and Jamie Masson. The only graduates from that squad who've had even any sort of involvement in the first team this season are Scott Wright and Craig Storie. Storie, Wright and Frank Ross especially have been regularly touted as big prospects when playing at the various Scotland youth levels but they cannot seem force themselves into McInnes's first team plans. Being thrown on for a few minutes at the end of a game is not aiding their development. I understand McInnes's main priority has to be winning matches but his total disregard for the development of youth surely must be a concern to those in the corridors of power at Pittodrie.
The frustration at the lack of youth players being blooded in the first team is even more annoying when you look at the absolute shite drafted in on loan to stand in their way. Step forward Jeff Monakana, Ryan McLaughlin, Alan Tate, Josh Park et al. There is not one Dons' fan I know who'd rather have these journeymen in the team over a product of the youth system. Anyone who says our youngsters aren't good enough to displace this procession of jokers is deluded.
Those are my biggest gripes with McInnes and I don't think I'm alone among the fanbase. The biggest fear at the moment is that McInnes isn't capable of change and these issues end up being the things that stifle our progress and ultimately bring an end to his time with the club. The worrying thing is that the issues highlighted above seem to be part of a well-established pattern for McInnes as I found out recently when I spoke to Bristol City blogger, Paul Binning about McInnes's ill-fated spell at Ashton Gate.
---
Q: What was the original reaction among the Bristol fans when McInnes was first appointed?
A: At the time I seem to recall there was a general excitement around it. We'd not long been in the play-off final to get into the Premier League, and many felt that here was an exciting new manager with a great reputation, to perhaps just take us to the promised land. I think whenever a young Scottish manager who has proven himself north of the border comes to England parallels are still drawn with Sir Alex, and you hope you've found Mark II!
Q: The perception up here is that McInnes did well initially. What changes did he make from the previous regime?
A: To be honest it's difficult to know what was 'done well' at that time. Some were still expecting us to be top of the league, others happy to be settled in mid table, and the more pessimistic just happy to be clear of the bottom three. But yes, we were at the bottom of the Championship when McInnes pipped Mark Robins to the post and through a mixture of improved team spirit (he dropped David James, for instance) and a few decent loan signings – Andre Bikey in particular – he managed to keep us clear of the trap door that season.
Q: What was McInnes's main style of play? Did he change it up depending on who you were playing or did he tend to stick with the same approach regardless of the opponent?
A: He certainly wasn't afraid to change his starting XI, partly due to the position in the league we were in, but many felt he tinkered and changed far too often for any stability. David James had been brought in on a whim, seemingly by the club's owners, the previous summer but McInnes saw enough in a few months to drop him.
Key loan signings included Andre Bikey and Hogan Ephraim and both played an immediate part, adding a touch of quality to the team we didn't previously have in place, but equally a string of loan signings kept others out of the team who perhaps deserved a spot and his 4-5-1 formation in particular came in for some criticism.
Q: What was his record on bringing through young players?
A: Like most managers during the last six or seven years, the league situation has seemingly deemed it impractical to bring through young players whilst fighting relegation.
The one notable player he brought through (having signed) was Yannick Bolasie, although then seemingly failed to understand exactly what a talent he had in his hands, with a regular spot on the bench causing Bolasie to seek a summer move to Crystal Palace. McInnes ultimately sanctioned it, although player and agent power clearly played a huge part. The rest, as they say, is history!
Q: What other good and bad points did he have?
A: His ultimate downfall in my mind were for three key reasons.
Firstly, we'd spent a lot of money the summer before he arrived on a load of players who turned out to be rubbish! This limited his ability to manoeuvre and bring in players as he'd have liked, although he brought in two good strikers in the summer he had and failed to address the centre half we desperately needed. Bikey never came permanently and we shipped nearly two goals per game for the rest of the season. Indeed, the owner pointed squarely at this very point. To get to the middle of January without having kept a single clean sheet tells you everything you really need to know.
Two, he relied on his links and knowledge of Scottish football to bring in some players who, ultimately, were nowhere near up to scratch. Ricky Foster will always be the symbol of McInnes' time at the club, routinely played but never, ever looked to be good enough for the Championship.
Three, the club was in a five-year decline, slowly getting closer and closer to the epicentre of failure and racking up debts of £50m. In my view, he simply wasn't quite strong enough – at that stage – to stop the momentum. It continued for almost 18 months more after he left, and we were some 25 places worse off than he left us just a year later.
---
I thought Paul's answers gave a very balanced appraisal of McInnes. The telling points for me, which echo my own concerns, are the insistence on sticking to the 4-5-1/4-3-2-1 formation, the failure to give youth a proper chance even when presented with someone with the talent of Yannick Bolasie, the succession of sub-standard loan signings and failure to spot when crucial changes in personnel are required.
And yet, the day before I post this, the Dons have won 3-2 away to Ross County showing great determination in the face of adversity. Startlingly, the team yesterday included two strikers and Craig Storie played the full 90 minutes. That alone gives me hope that Derek is the man to take us to that elusive "next level". A real title challenge between now and the end of the season will go a long way to convincing me he is.