Casual Connoisseur on Shoes
Dan, Casualco: "I was asked to write a few hundred words on my favourite ever pair of trainers, but being the awkward, slightly disorganised kind of guy I am, by the time I finally got around to it, it ended up as a list of my top 5 pairs of shoes."
Clarks Wallabee (Nanamica Goretex)
The Wallabee is an absolute classic, it's never really been tinkered with since it was first released, they are the comfiest shoes in the world if you wear them all the time. The simple suede and crepe mix just really works for me, I don't even want to know how many I've got now, old ones, new ones, trendy collab ones, the list goes on.
However, I've selected these Goretex ones made in collaboration with Japanese brand Nanamica, pure luxury, they just look spot on. The crepe sole is what makes this shoe normally, but that contrast Vibram sole just makes these look fucking ace. I'm not one for buying a 'back up' pair but I would with these. I got a Bottle Green pair customised to look similar with a nice Minty Vibram sole after passing their shop on Old Street loads of times, they worked a treat.
Finn Comfort Baden
I'm a sucker for weird looking European comfort shoes, to some – 'old man' shoes, to others 'special shoes', insult them all you like but I just love them. These are definitely what some would call Marmite, the epitome of a Geography teacher shoe, they are like something your Grandad might have bought out of a Sunday supplement but they're also really expensive.
I first saw these in the old Oi Polloi in Manchester and had to have them. The leather panel looked like it was made from wood, they reminded me of the family truckster Chevy Chase drives in Vacation. They do exactly what it says on the tin: comfy as fuck is my personal endorsement for them, they even have a weird bobbly extra sole that apparently helps bad backs and migraines.
The White pair is on another level, you can only love or hate them. They look like hospital shoes and that's a great look, no? I once attempted to walk 12 miles home from Macclesfield in these when I couldn't get a taxi after a heavy night, I jibbed over a golf course which had just been mowed at about 6 am, the soles have a slight green tint to them now. I've got one of them Sneakers ER pens for them.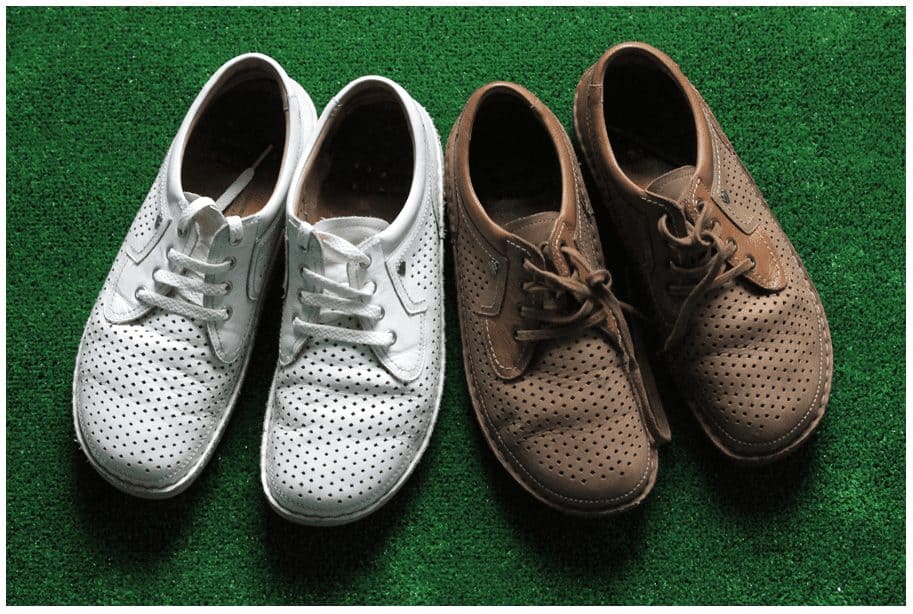 Noël sport
Again, these were brought to the fore in the original Oi Polloi shop. An obscure French-made shoe or is it a trainer? That's what makes them cool.
You just don't see these very often, which is always a good thing. I found a pair of their colourful trainers in Hotdogs vintage in Hamburg, but they weren't my size. The strap-over pair are exactly the sort of thing I'd expect someone in a pair of generic Adidas Samba to laugh at me for wearing and I'm not arsed. They have great names like 'Ganga' and 'Garry'. I just love that tobacco suede colour and with the gold branding on the tongue, they could be straight from the seventies.
They seemed to disappear for years, but I recently got a couple of pairs from Parisian boutique Isakin.
These (pictured) ended up in my possession via a Swedish lad I know after a post-club brawl in Stockholm and I haven't looked back since…it's a long story.
Jacoform 332, 333
I've got quite a few pairs of these all slightly different, but these nubuck ones are still the bee's knees.
Once again they're obscure, European, expensive, something a hippy teacher would wear and of course, they were an old Tib street Oi Polloi staple. Can you see a theme developing here?
They work with everything, they make you walk like Shaggy from Scooby-Doo, they're just dead comfortable. They are literally orthopaedic shoes designed by a Danish professor, if that's not cool then I don't know what is. I've actually just found a post on my old Oneupmanship blog about them which proves I've been going on about them for years. I really should get out more. I'm waiting for this really slim jeans epidemic to fuck off so I can wear them a lot more.
Veras x Connoisseur Cord shoes
A shameless plug I know, but I love these. We've teamed up with Port Talbot's famous cobbler, Nelly from Veras quite a few times now and it's either these or the monkey boots that are my faves.
Cord shoes were always a bit of a Manchester/North West mythical thing. They are an acquired taste for sure, something not too many brands have produced, but I love them. These are made just for us in a small Spanish factory, a one-off run in smallish numbers. You don't get much of that these days. This was the second cord shoe we did and they came in four colours – just don't wear them with cords!