Unmodern Man Interview: Richie Hume, 1 of 100
Of the many generation-defining youth cultures spawned in the past 50 years, the skateboarding phenomenon that emerged in the 1970s and 80s is one of the few that has endured. While the popularity of the likes of the punk, mod and casual movements has fluctuated over the years, the appeal of skating has continued unabated and its influence continues to permeate mainstream culture today.
Up-and-coming streetwear brand 1 of 100 are in great company being able to track their origins back to skateboarding; labels such as Palace, Supreme and Stüssy emerged directly from the scene while big brands like Carhartt owe much of their popularity to widespread adoption by the community.
1 of 100 founders Richie and Xander became friends at the age of 13 when they met at their local skate park in the Scottish town of Helensburgh. However, it wasn't until years later that a confluence of circumstances saw them coming together to launch the brand in 2017.
Built on an ethos of collaboration with artists from across the creative spectrum; from DJs to illustrators to authors, they work together to create bespoke designs which are screen printed on to high-quality organic fabrics.
Their highly sought after Limited Edition collections are strictly limited to 100 pieces; each featuring great details including your unique chosen number and a walnut button etched with the project number. Their Creative Collaborations range aims to support artists from the music, art, design and street culture worlds – and while these aren't limited edition- they're still produced to the brand's typically high standards. In short, everything 1 of 100 put out is a carefully curated design statement with just the right amount of exclusivity to have people stopping you in the street to ask where you got it.
Recent collaborations with the likes of Luke Unabomber, Ian Rankin and Horace Panter of The Specials sold out in minutes, and there's no denying the steadily growing buzz around the brand. I managed to catch co-founder Richie Hume, before things completely catch fire, for a chat about the ideas that drive the company, their creative process and future plans.
What are the ideas that underpin what you're trying to do with 1 of 100?
It all started with a simple idea. I wanted to start a small, independent brand that was focused on celebrating and supporting creatives in an ethical and environmentally sustainable way. Printing on demand, limited-edition collaborations which avoid the unnecessary waste of fast fashion and make sure everyone in the process is treated fairly. I've always had an interest in limited edition things. I did a presentation for the guys at Jamhot last year, and one of the slides was about my brother getting the Town Called Malice 12" with pink and black stripes, supposedly there was only 1500 of them made, and I remember loving that. The other thing that sparked the idea was contributing to the Kickstarter for De La Soul's last album. I remember waking up and before I'd even got out of bed I'd spent $125 on a vinyl and limited edition t-shirt.
The community is also a crucial part of what we're trying to do. I'm passionate about that. And I love the rapport I have with the community that we're building. I want to try and use it as a springboard to do more, that's always been one of the key things, we're more than just t-shirts, and there are bigger ideas that we want to develop. Ideally, we'd get a space where we can do the packing, the storage, have a small shop area, an exhibition space; where we can curate things and showcase the creatives we work with.
I've always wanted to try and give back a bit to the creative community, which I think is totally undervalued. As shown with the pandemic, their skills are not truly acknowledged, people pay them by the hour; they don't recognise the decades they've put into getting to that stage. Through our commissions and collaborations, I want to give those people a bit of a platform. The bigger we get, the more we can help support some up-and-coming artists and labels. It also gives me the opportunity to collaborate with a lot of my heroes which has been amazing!
How did the idea for 1 of 100 grow from your friendship with Xander?
We've been friends since we were 13. We weren't in the same circle of friends, but we started skateboarding together, that was the thing that drew us together. We both went off and did our own thing, I went off to uni in Edinburgh and he stayed in Helensburgh. Eventually, we started working together in a design studio, where I was a designer for Texstyle World. Xander got quite interested in screen printing, and he started doing that from his house. He had a really cool blog selling t-shirts which was probably an influence on me. I'd always wanted to do my own thing at some point.
We started 1 of 100 in 2017, but I was still working full time, and it was full-on. My dad had a massive stroke in July 2018, and I went down to four days a week at work. Then there was an opportunity to take voluntary redundancy last year, and I seized at that; I saw it as an opportunity too good to miss. Sometimes you get thrown these curveballs, which you make something of, or you let them pass you by, and then regret it for the rest of your life. I just decided to take the opportunity.
Since then we'd built it up slowly but when COVID struck in March that weirdly provided an opportunity to accelerate things. I've had more time to spend on it, and the trajectory now seems to be going up and up.
How did you cope with lockdown?
We had a bit of a nightmare at the beginning because we had to move studios at the same time as lockdown. It was difficult getting new equipment in, all the supply chains were broken, but one thing I would say is that the community has just been brilliant. The people who buy our stuff are amazing, they're just so understanding and it's such a great feeling that they respect what we do.
My dad's been in a care home for just over a year and was making good progress before COVID. My mum hasn't been able to visit, and we only just got to see him in the last few weeks. He's taken a turn for the worse, and we're just hoping we can get him back to the progress he'd made. These are the things that are important just now.
How do you approach the collaboration process?
It can be a lot of things. We can approach someone; they'll have no idea what to do, and we have design talent who we can call on. Or they might have something that they've come up with. It was brilliant with Luke (Unabomber) because it was a close working collaboration. That all started from me hearing him talking about how É Soul Cultura would make a great t-shirt, and I spoke to Neil at Proper Magazine who put me in touch. Then we just had lots of zoom calls, I'd knock something up design-wise, and we'd go back and forth, back and forth. It was probably the most collaborative of all the ones we've done.
With some of the bigger artists, you need to go through their management. Some of them take a long time to happen; we've had ones that have taken a year. DJ Shadow is one that I'm still working on in the background, and I'm hopeful that will happen. I look for people that inspire me; they could be small, they could be bigger.
One of Luke's pals contacted me yesterday about doing something. That's happening more often too, people like what we do, and we're getting approached, which is fantastic.
Marcus Reed's 'Gemmill 78' design is just as brilliant. I spotted it on Instagram and thought that would make a great t-shirt, so I just messaged him on Instagram and didn't hear anything back. And that happens quite a lot, but you just take the chance. But then he came back to me, and we just made it happen.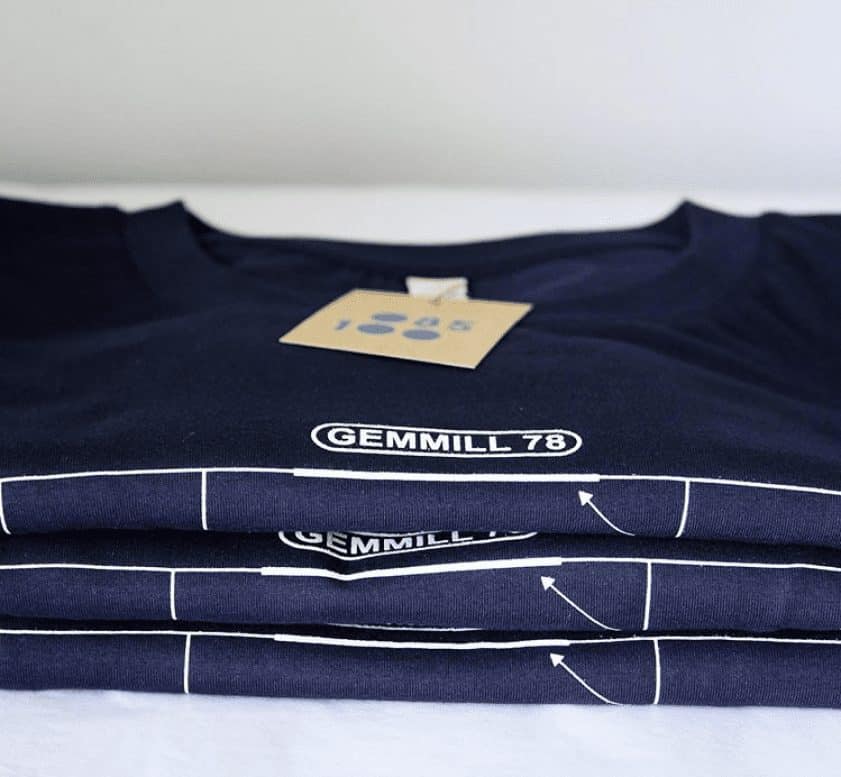 Which collabs have you currently got in the pipeline?
We've got 808 State in the wings. We're just waiting for the right moment with their management.
Kevin Cummings the photographer – we're doing a twist on his iconic Joy Division black and white photograph where they're on the bridge. He took a photo a few years later, without the band obviously because we can't do that for copyright reasons. I think that one's going to be bonkers. But we don't always want it to be about making those ones that fly out the door. We want to try and serve as curators.
There was a good example recently when I tweeted out a picture of my kid's protractor, and a guy who'd bought a t-shirt tweeted me a picture of his dad's old protractor and set square. It turns out he'd used it to design the patent for the Raleigh Chopper. He was the lead designer on the Raleigh Chopper, and his name's the first on the patent. We're hoping to do a collab with him with the patent on the t-shirt in some cool Raleigh chopper colours.
How do you work with so many different artists but still make it recognisable as 1 of 100?
I suppose I just take the gamble. There's been a few that maybe haven't been as successful as I thought they would, but you live and learn. But at the end of the day, the demographic is me. I'm doing it for myself. And it doesn't always work. But I do think that people are much more eclectic now and it's recognised that's OK.  You can be into jazz as much as you can be into techno. And that's cool.
Hopefully, we're introducing people to things that maybe they wouldn't have looked at before. Even if they just have a brief moment with something which is outside their normal circle of what they're into.  
How important is being based in Glasgow to you guys?
I've been living in Glasgow since I was 23. I love the city; it's got a lot to offer. It's important that people know we're from Glasgow. There's lots of cool stuff happening here. We'll continue to help promote and support creatives from Glasgow and Scotland as part of what we're doing so that they are recognised on the same platform as artists from London, who probably get more recognition.
How can people keep in touch with what you're up to next?
We're trying to build a mailing list so people never miss out. We do one on a Sunday night with four or five of my top picks; typically there's a mix of stuff; something to watch, something to read and something about the next collaboration we're launching. That's gone down really well.
_____
If you want to be the first to know about future collaborations, go to weare1of100.co.uk and sign up for their newsletters.